Spicehaus' ready-to-drink cocktails for pouring at your business!
🍸 Saves preparation time

The preparation time of a cocktail drops from 2-4 minutes to only 30 seconds, all you have to do is shake, pour, decorate and serve




🍸 You don't need a trained mixologist/bartender anymore

There is no need to hire an expert mixologist to produce and serve a high-quality and consistent cocktail menu - fast, operational, cost-effective and time-saving




🍸 Full cocktail bar within 24 hours at your place

We provide everything, cocktails, garnishes and a designed menu




🍸 Long shelf life

Our cocktails are kept for 9 months




🍸 A well-known boutique brand

Spicehouse has been serving customers all over the country for years and adheres to high-quality raw materials and a high standard




🍸 Manufacturer's license and kosher certificate

Kosher fur in Israel, everything is produced in our factory, tested and meets GMP requirements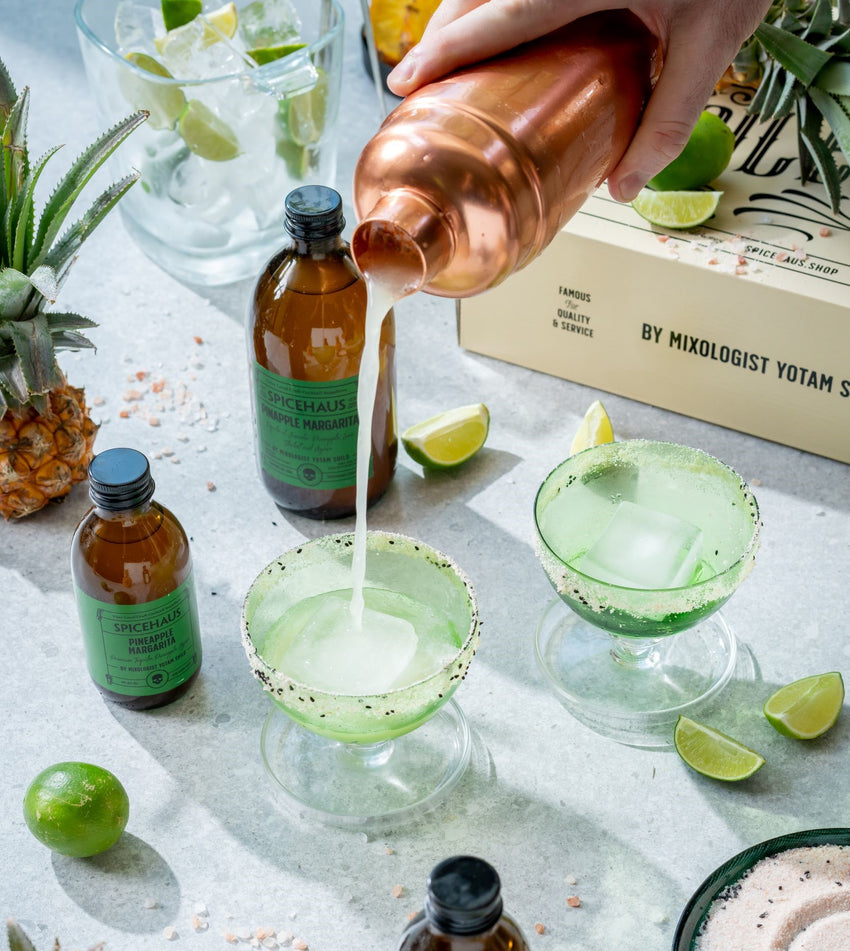 Who we are ?
Spicehaus the cocktail company was founded in 2020 by mixologist Yotam Shilo after many years of leading the field in Israel, including winning the titles of the best cocktail bar, and also representing Israel in the list of the best bars in the world.

At the beginning of COVID - 19 period, the spicehaus company opened and went to the market with a line of ready-to-drink premium cocktails in a bottle, a trend that quickly spread and is based on all of Yotam's best bestsellers in the last decade, without the need to brew, mix or prepare, but only to pour.

Today, spicehaus sends thousands of shipments to private customers throughout the country and they return, love and know spicehaus, which has become synonymous with cocktails and defines the right taste of classic and original cocktails in Israel.

Today we also offer restaurants and bars liter bottles of premium cocktails ready to be poured on the spot.
לצפייה בקטלוג
Restaurant owners tell
The operation of the cocktails is amazing, the work is clean, tidy and the cost is good and fair for a product of this quality. But most importantly, the customers are very, very satisfied!
- The roof of Jaffa
The cocktails are accurate, their taste is good and consistent, my customers know that they will always get the same cocktail with the exact taste. Beyond that, it's a big saving that you don't have to have an additional bartender every shift because the work is quick and simple, all you have to do is put ice in the glass, pour and decorate, which allows you to put out a lot of cocktails at a pace that's easy to keep up with.
- Transit Asian restaurant
spicehaus' cocktails are of very high quality, our employees sell them easily and our customers love the uniqueness of the flavors.
- Green Roll Sushi Tel Aviv
התפעול של הקוקטיילים מדהים, העבודה נקייה, מסודרת והעלות טובה והוגנת ביחס חמוצר באיכות כזאת והכי חשוב הלקוחות מאוד מאוד מרוצים"
- קפה הצבי 
Restaurants where you can find us